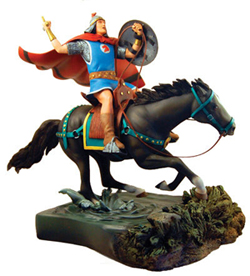 Over the years there have been many figures of Prince Valiant produced. In an ongoing manner I am adding to this list of figures so check back frequently for updates or send me pictures of your figures if they are not already shown here.
Custom 1/6 Prince Valiant Figure
By Bernd Müller from onesixthknights.com

Completely handmade on a full moveable action figure body the Prince stands on a base with the first steps of a tower.

Helmet and shield are sculpted from clay, the chainmail is made from small 1,2mm wide metal rings in the original way a chainmail was made in medieval times.

The metal sword is fitted in a real leather scabbard.

His clothing is handsewn and all leather parts are from real thin leather.

His head is a cast and handpainted.
Boltar a romantic image of a Viking
by George Stuart

Generic Figures are rarely George Stuart's subjects. He prefers to focus on the recognizable, both famous and infamous. Only in recent years have nameless, frontline warriors of many ages and cultures been exceptions.

For a private collection, Mr. Stuart has created several generic fighters, of which the Viking Warrior is the latest.


At the request of the collector, the generic Viking was modeled after Boltar, a comic strip character.
Prince Valiant
Prince Valiant Mounted on Wooden Plinth.
It has been custom lettered on the wooden plinth.
1950
Custom Prince Valiant
made from Playmobile Figure
Creator: Unknown
Prince Valiant (Motuc Style
by hunterknightcustoms


Custom Action Figure
Toy Series: Masters of the Universe
Creator: hunterknightcustoms
Height: 6.50 inches

12" Custom Prince Valiant
made from Marx Viking Eric
By Clayton Emery

The joints were glued then primed with Krylon to bond to the slick white plastic.

The helmet, with the horns lopped off, is fastened with brass brads driven into his head.

The fuzzy wool leggins were gray paint dabbed with dryer lint while still sticky.

Since the plastic spear shaft bends, I cut off the spear head, then set it in a metal cuff cut from a soda wrapped around a dowel.

The spurs are from Elite Brigade
CAPTAIN ACTION PRINCE VALIANT 1/6 ACTION FIGURE

This figure is a kitbash creation utilizing a Playing Mantis Captain Action figure that has been customized to the likeness of PRINCE VALIANT.

Customized Head Scupt
Playing Mantis Figure
Silver Action Suit
Blue Tunic with Emblem
Red Fabric Cape
Belt
Haversack Pouch
Silver Shield with Emblem
Sword

Custom sculpted, painted likeness of Prince Valiant, attached on a Playing Mantis figure.
The action suit is a Playing Mantis outfit, altered slightly with silver lame material.
The tunic is fabric, embellished with the familiar horse-head emblem. The cape is red fabric.
The belt is brown, and there is a separate haversack pouch.
The boots are brown, like the character's.
The shield is form MArx Silver knight, embellished with the same horse-head emblem.
A sword is also included.
DCUC Aquaman: PRINCE VALIANT 1/6 ACTION FIGURE

Name: Prince Valiant
Toy Series: DC Universe
Creator: superevan
Date: March 27, 2012
Base Figure: DCUC Aquaman
Height: 6.00 inches
Completion Time: 10.00 hours
Statue of Prince Valiant

This statue was displayed at a comics salon in La Coruna, Spain.
Mego Style: PRINCE VALIANT Custom Action Figure

Doctor Mego (body, boots and scabbard)
Classic Tv Toys (sword and mesh outfit)
Prince Valiant Figures by Schleich

This is a rare set of 5 figures from Prince Valiant (Prinz Eisenherz) that were made by Schleich in 1992.

They feature Prince Valiat, King Arthur, Rowanne, Prince Arn and Merlin.
The figures all measure between 3-4 inches tall. Each is stamped 1992 K.F.S. Schleich on the back.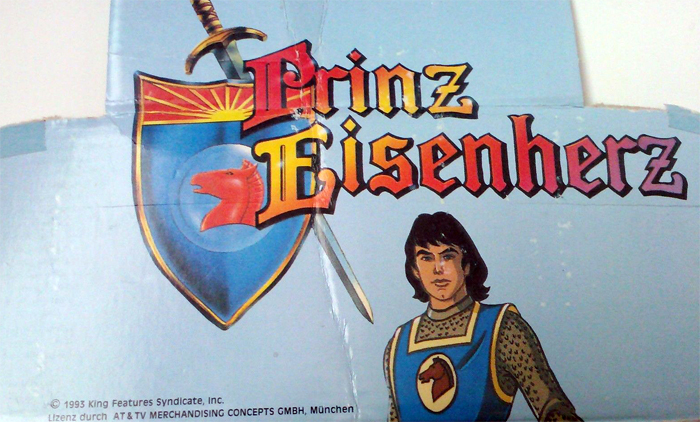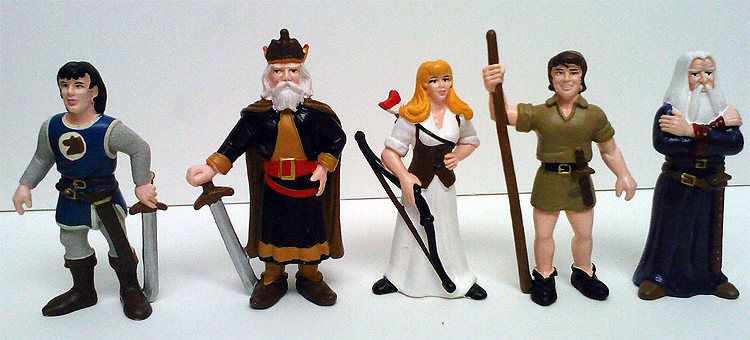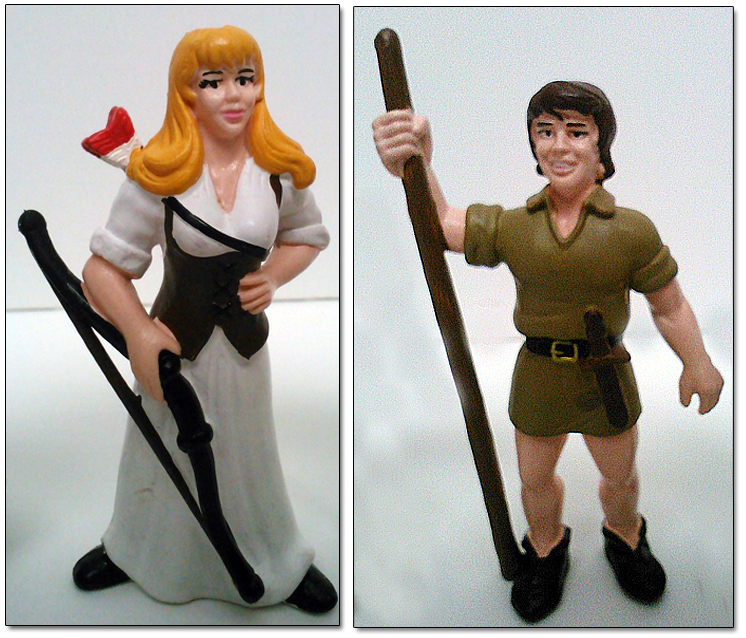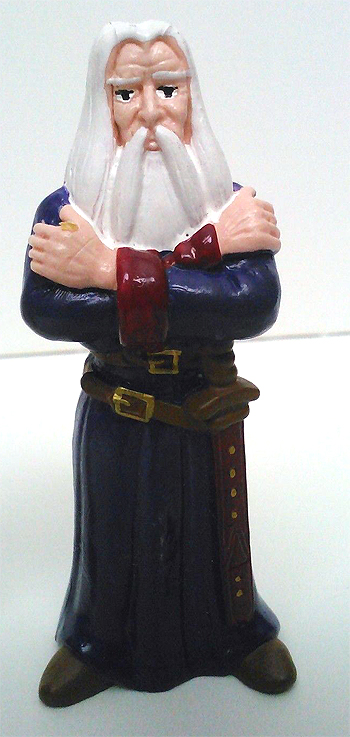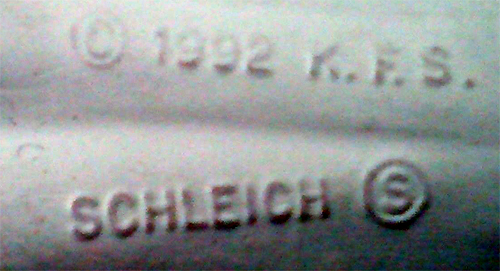 Spanish Manufacturer Konvalut: Prince Valiant Figures

PVC figure set of 5 of the classic comic book story of Prince Valiant.

Included are Prince Valiant, King Arthur, Rowanne, Prince Arn and Merlin the Wizard.
5 Prince Valiant PVC figures MAIA BORGES
1992
Markings: 1992, KING F. SYND, PORTUGAL

Another PVC figure set of 5 of the classic comic book story of Prince Valiant.

Included are Prince Valiant, King Arthur, Rowanne, Prince Arn and Merlin the Wizard.
1944 KING FEATURES Prince Valiant Syroco Figurine.

Adolph Holstein, a skilled European immigrant woodcarver, founded the Syracuse Ornamental Company in 1890, specializing in making hand-carved decorative components for the furniture industry. Demand for the company's intricate products soon exceeded production capacity, so Holstein developed a process to mass-produce replicas of the carvings by compressing a mixture of wood, flour, waxes, and resins into molds.

In the 1930s and 1940s the company changed its name to Syroco Inc. and manufactured a line of novelty items—cigarette boxes, pipe racks, plates, serving trays, and figurines of popular entertainers, comic strip characters and public personalities, for sale in roadside souvenir shops. Syroco Inc. continues in business to this day, but production of the figures was discontinued by about 1950.

Syroco products of greatest interest to premium collectors are the 1941 Great American Series of historic personalities (about 6" tall) and the 1944 series of King Features Syndicate comic strip characters (about 4-5" tall). There are 24 know characters. Pillsbury Mills, Inc., offered the following 12 as premiums in 1944 each for 25¢ and a Pillsbury Enriched Farina box top: Alexander, Annie Rooney, Archie, Barney Google, Blondie, Cookie, Dagwood, Jiggs, Little King, Popeye, Tim Tyler, Wimpy."

Archie appeared in an Army uniform, Barney Google in a Navy uniform, and Tim Tyler in a Navy uniform. The other twelve figures from the 1944 series were: Casper, Flash Gordon, Fritz, Hans, Maggie, Olive Oyl, Phantom, Prince Valiant, Rosie, Tillie in a WAC uniform, Toots, and Wimpy. The Phantom figure came in two costume variations—brown and purple
PRINCE VALIANT "The Viking Lord"

ANDREA MINIATURES 54mm
All models are supplied as kits and will need to be assembled and painted. The picture illustrates how the model should look once completed. Glue and paint are not included in the kit.
PRINCE VALIANT Carlsen Comics

This figure is owned by Ingo Israel an avid collector and diorama maker.
PRINCE VALIANT Dark Horse Comics

#3 in a series
Rare Classic Comic Character Series Figurine by Dark Horse Comics - 2000

Resin 5" statue sculpted in the Syroco style of the early twentieth century by Yoe! Studio.

Figure comes packaged in a full color tin. Limited edition #421 of 550 made.

Also comes with a pinback button and an information pamphlet about the character and it's creator/artist.

Complete set of 47 tins, produced and sold by Dark Horse Comics 2000-2003. Tins contain resin statues done in the style of the wood composition figures by Multi Products and Syroco. All characters are copyright their respective owners and all were sculpted by Craig Yoe Studio Inc. Limited edition sets also included 1.25" dia. buttons showing characters done by their creators. Also included is small bw edition certificate folder. Complete set, characters include Krazy Kat, Popeye, Prince Valiant, Phantom, Ignatz, Olive Oyl, Mandrake, Li'l Abner, Daisy Mae, Dick Tracy, Beetle Bailey, Sarge, Little Orphan Annie, Flash Gordon, Terry and The Pirates - Terry, Terry and The Pirates - Dragon Lady, Feerless Fosdick, Felix the Cat, Dagwood, Blondie, Smokey Stover, Wimpy, Bluto, Pogo, Albert, Nancy, Sluggo, Alley Oop, Little Nemo, The Yellow Kid, Shmoo, Little Lulu, Tubby, The Spirit, Tarzan, Ming the Merciless, Jeep, Offissa Pupp, Buck Rogers, Wilma Deering, Popeye (different sculpt), Alice the Goon, Gasoline Alley, Lone Ranger, Tonto, Dennis the Menace, Barney Google. Set is #1-47. #1-3 were issued in quantities of 550, #4-7 in quantities of 750, #8-17 in quantities of 950, #18-43 in quantities of 600, #44-47 in quanitites of 550. Tins feature full-color lithography w/lid featuring image of character included, sides feature other characters in set. Seven of the set have tiny minor dents to tins o/w sets are N. Mint as made w/Mint contents. Great, high detailed set. An instant collection. Call for more details.
PRINCE VALIANT ReelArt Studio

ReelArt Studios continues its line of comic-book and newspaper-strip characters with another classic character, Prince Valiant.

Hal Foster's timeless hero from the days of King Arthur, as sculpted by Joy and Tom Studios, depicts Val in full battle gear charging atop his mighty steed through a marshy glade and seems to have been lifted straight from those early Sunday funnies.

The prepainted statue comes packaged in a full-color box with a certificate of authenticity. Limited to 500 units.

Overall: 11-3/4" tall, 15" deep, 10-3/4" wide

To see full sized pictures
-Click Here-
PRINCE VALIANT 60mm Marx 1950's

These figures are from the MARX Castle Set #4706.
PRINCE VALIANT Metal Figure

This figure is very similar to the Prince Valiant figure from the MARX Castle Set #4706.
PRINCE VALIANT by Electric Tiki

Electric Tiki's Classic Heroes collection includes Prince Valiant, who has brought rousing tales of adventure and heroism from the era of King Arthur and the Knights of the Round Table into modern times ever since he was created by Hal Foster in 1937. The Nordic prince is not only breathtakingly handsome, but brave and heroic, insisting that honor and integrity overtake injustice and evil in the world.

This statue captures a thrilling moment where our fearless knight in shining armor races up a staircase, shield in hand, sword drawn, flowing red cape billowing out behind him, to save, perhaps, a damsel in distress!

Designed and sculpted by Rubén Procopio in a 3D authentic design based on Hal Foster's original drawings as though the Prince is leaping off the page, this meticulously hand painted high quality polystone statue stands approximately 10" tall at 1:6 scale and features a detailed stone base with logo plaque. With a very limited edition size of 250 individually numbered statues.

This Prince Valiant statue stands approximately 10" tall, and is approximately 1:6 scale.
Each piece is hand cast in high quality polystone and hand painted to exacting standards.

It is packaged in a durable foam interior and a beautiful full color package, and each piece is individually numbered for authenticity.
PRINCE VALIANT by Ideal 70mm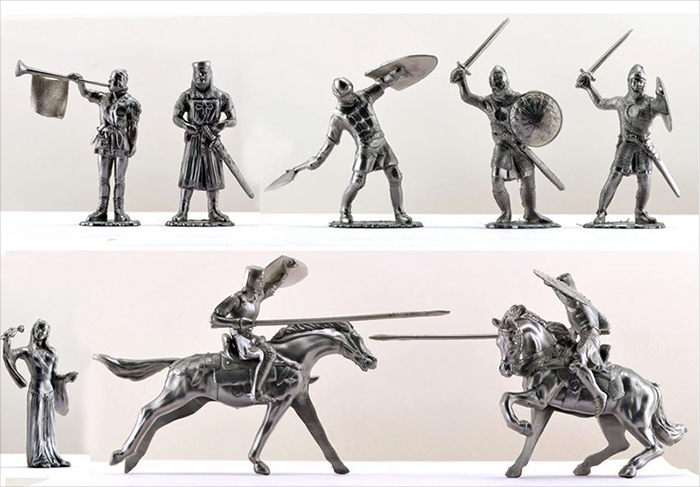 These models are based on pose designs from the Hal Foster Prince Valiant comic strip and the 1954 movie starring Robert Wagner, Janet Leigh, Sterling Hayden and James Mason.
The set included the character figures of Prince Valiant, King Arthur, Princess Aleta, Sir Gawaine and mounted Prince Arne, 4 other foot and 2 medieval war horses in 2 poses and 2 jousting lances.
Painted Examples